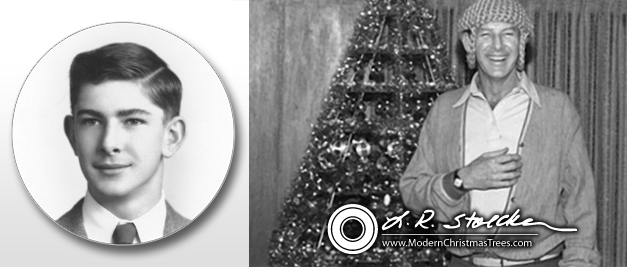 In 2011 Matthew Bliss, as an ode to his grandfather, re-created his grandfather's design of the Modern Christmas Tree and made it available to the public. Originating in the 1960s, Bliss' grandfather, an Engineer and architect known as Lawrence "Bud" Stoecker, designed the first Modern Christmas Tree from cardboard. Bud loved to build A-Frame modern style homes making the Modern Christmas a natural fit for him. Over the years the trees design was refined, moving from cardboard, to Masonite, to Plexiglas and the ornaments were updated for aesthetic fine turning. Today the trees are designed in a range of acrylics and the ornaments are classic globes and chandelier crystals for sparkle and shine.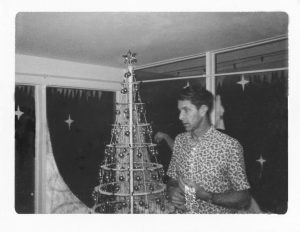 Later in life Bud was diagnosed with Alzheimers, which spurred Bliss' decision to show the tree. Debuting at the Denver Modernism show in 2011, the Modern Christmas Tree was a hit. Since then, the tree has been photographed in some of the most important Mid-century Modern homes in the United States, including the Stahl House in Los Angleles designed by Pierre Koenig and immortalized by the photographs of Julius Schulman. The list also includes the Sculptured House designed by Charles Deaton, later coined the Sleeper House. When Lawrence "Bud" Stoecker passed in 2012 the family celebrated his life with an exhibit of his trees at the original Disneyland Hotel in Anaheim and the exhibit continues to be a part of Disney's annual holiday festivities. In memory of Bud, each Modern Christmas Tree has his signature engraved on the bottom ring.
It's with great pleasure that we share our family tradition with you and your loved ones, in the hopes that it becomes your family tradition as well!
From our family to yours, Happy Holidays! Modern Christmas Trees, Matthew Bliss